How to use mobile proxies in Shared Pool?
published 2020-04-10
by James Sanders
20,234 views

James Sanders
James joined litport.net since very early days of our business. He is an automation magician helping our customers to choose the best proxy option for their software. James's goal is to share his knowledge and get your business top performance.
Choosing our Shared Pool plan you get 3 different devices (ports), that are located in 3 different cities and have 3 different carriers. Each device changes its IPs automatically, depending on the rotation time set on the device. You can switch between the devices any time you need a different IP by clicking a Select button on your dashboard or via API.
It might sound a bit confusing, so let us clarify it with some specific example.
You just got Shared Pool on litport.net and you have a pool with the following devices:
device X - Los Angeles, CA, AT&T, IP rotates every 2 min

device Y - Seattle, WA, T-Mobile, IP rotates every 10 min,

device Z - Tempe, AZ, Verizon, IP rotates every 2 minutes.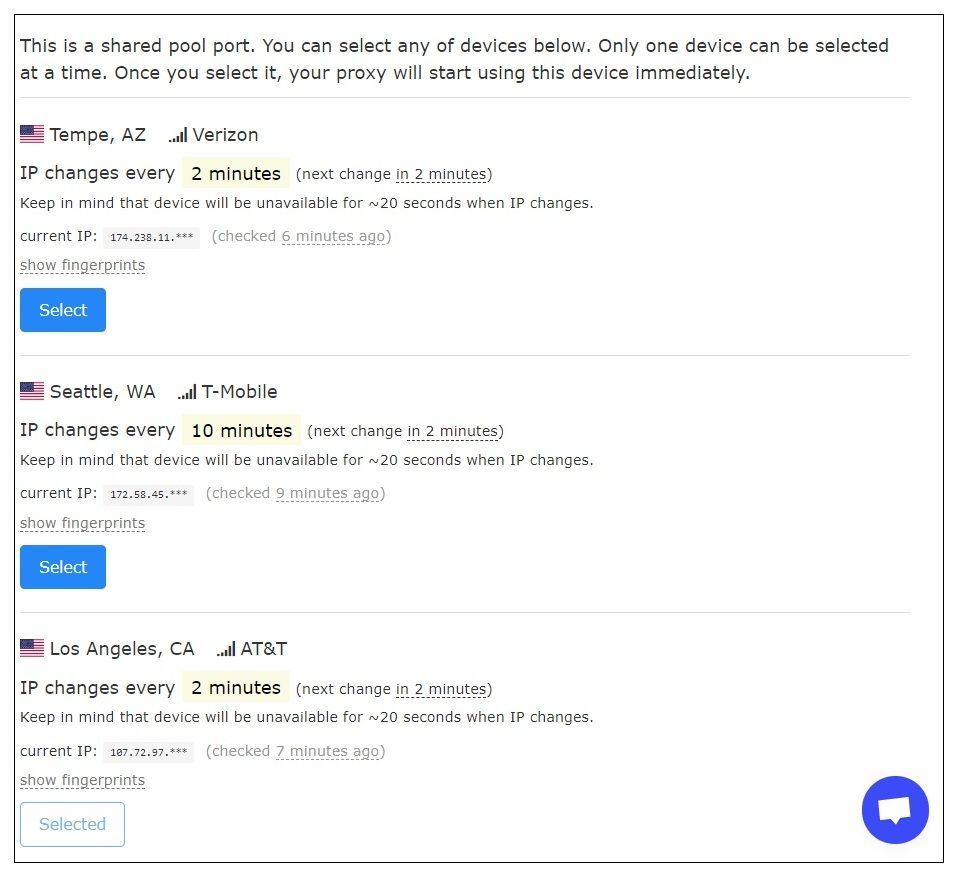 This is how your Shared Pool looks like in your control panel.
Let's say, you select the device Y, use it for 5 minutes and switch to the device X - your IP, location, and carrier changed.
After using the device X for 5 minutes you decide to switch back to the device Y - your location and carrier changed from Los Angeles, CA, AT&T to Seattle, WA, T-Mobile, your IP changes as well, it will be different from the one you had in Los Angeles, CA (but it still can be the same IP you had before switching to the device X, as it rotates automatically and changes every 10 minutes).
To make it more clear: you will be able to get a new IP from CA every 2 min, from WA every 10 min and from AZ every 2 minutes. You can jump between these devices at any moment, but devices rotate their IPs automatically every N minutes.

Checking IP for each of devices in the pool.
We do not limit you on the number of switches between the ports or on the amount of bandwidth you use. Moreover, the important nuance is that switching between the devices happens instantly, you don't need to wait another 15-25 seconds to get a new IP like you would need to do on Shared or Private Device plans.
We have different pools with different devices in it. That means that you can get a pool with 3 Verizon devices but in different locations. Or you can get mobile proxies in Seattle, WA but with 3 different carriers. We can make a special custom pool for your specific needs. You can contact us to get more information about that or just specify your need in checkout form.
Why Shared Pool is better than Shared Device or even Private Device? With a device-based plan you will get only one device which is used only by you (private) or by other people (shared). This device is located at a static place and has a static carrier. With Shared Pool you will get 3 devices with different carriers and locations therefore getting a much bigger pool of possible IPs.
Kindly note, you can use only 1 device at a time in Shared Pool plan. That means that your proxy can have only 1 IP at a time.
In case you would like to use multiple IPs (meaning multiple devices) at the same time, you would need to get multiple Shared Pool ports.
As an option you can check our other plans that offer one device, choose the preferable locations and carriers, and just get several of them to make it work best for your purposes (we gladly offer discounts for purchases in bulk).
What is Shared MEGA Pool?
Our typical Shared Pool consists of 3 devices. Some customers love how the pool works and the ability to change IP without waiting, but they need more devices.
We've got a lot of feedback and decided to introduce another type of pool.
Shared MEGA Pool contains 30+ shared devices. It has all locations and all carriers that are presented in our network, you can choose any of them at any time. Rotation times vary from 2 minutes to 12 hours.
It's a bit more expensive than our typical Shared Pool but it provides you a much bigger amount of exit IPs and super flexibility in terms of rotation time.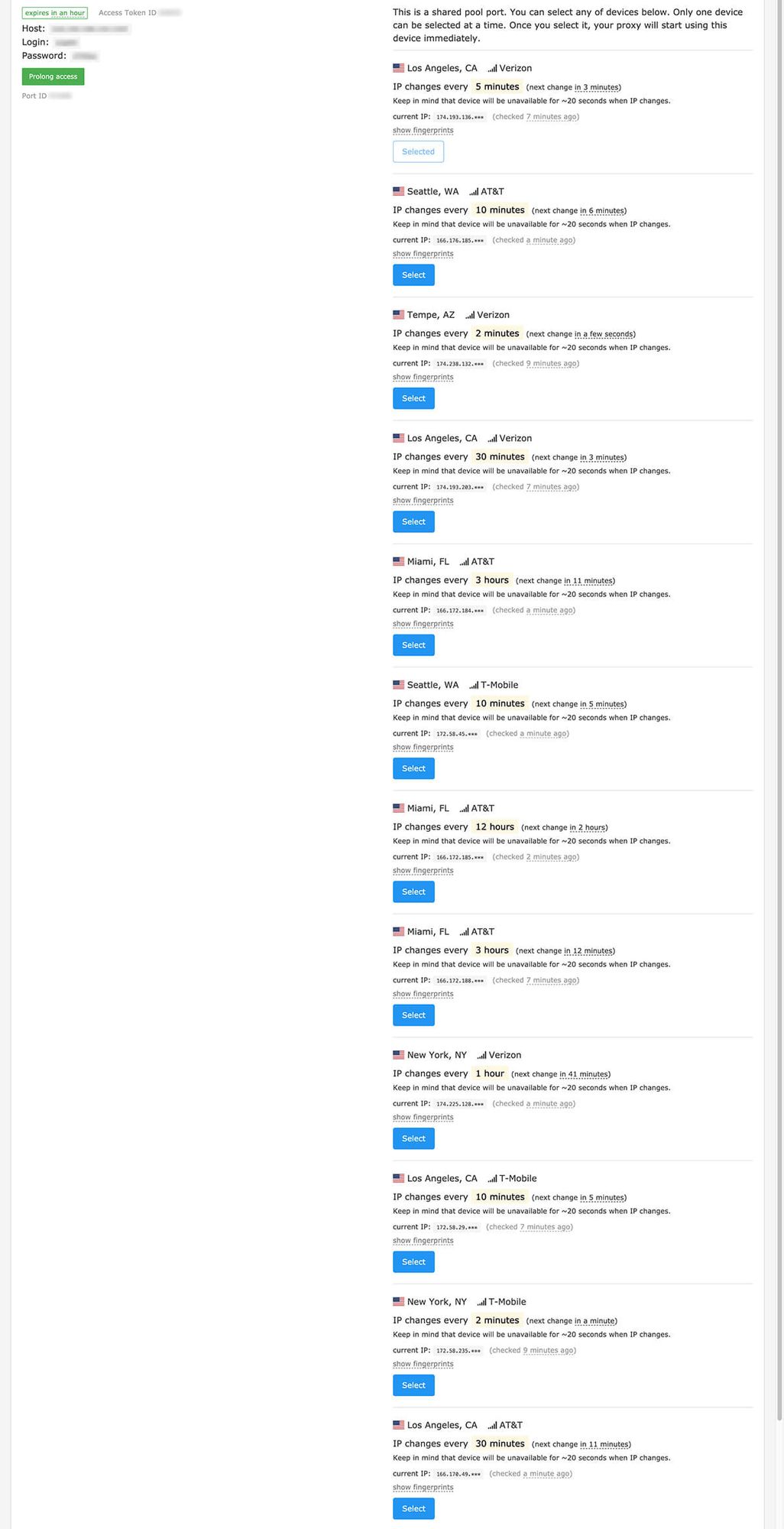 That's how litport.net's Shared Mega Pool looks like in your control panel.
What pool should I choose?
It depends on your goals and your business. If you need bigger amount of unique residential IPs from different cities, states and carriers, then you should go with Shared MEGA Pool.
Anyway, you can always ask for a trial and test both packages.
Don't miss our other articles!
We post frequently about different topics around proxy servers. Mobile, datacenter, residential, manuals and tutorials, use cases, and many other interesting stuff.